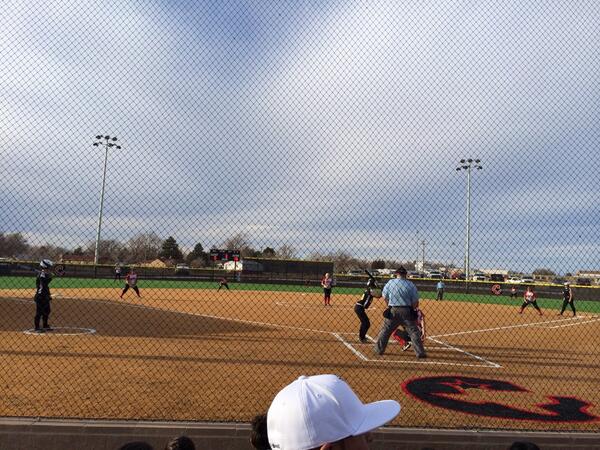 The bank clock read 84 degrees as we drove into town yesterday afternoon from work. It was a beautiful day for baseball. Gruver just happens to have a new baseball complex, so Teague and I decided to go take in a game. We both went and changed clothes, because a man needs to be comfortable when he's at a baseball game. I grabbed my baseball cap and pistachios and headed to the ballpark.
The game was already in progress when I arrived. The stands were crowded and cars lined the outfield with people sitting in the beds of their pickups. I snagged a seat right behind home plate and commenced to enjoy my pistachios and the weather. The sky was clear, and the wind was calm (If the wind is not blowing in the panhandle it's a good day). There's a relaxed feeling in the air. People are visiting and enjoying the game. It's a blessing for everyone to enjoy the sun after the extreme cold we have had.
I've read before that baseball has a spiritual dimension that other sports don't have and can't simulate. There's a rhythm, a harmony to the game. There is something special about baseball, but I can't quite put my finger on it. Maybe it's the peacefulness that I feel. Maybe it's the fact that I can sit by a couple of high school girls and share my pistachios and visit a bit. Maybe it's because I got to see my friends Dave and Dixie. I think I will go again.